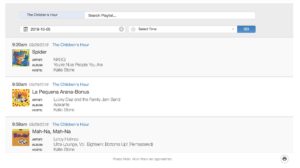 Our live broadcast playlists are posted to  The Children's Hour Page at KUNM. Full live broadcasts can be heard from the KUNM-fm's "Two Week Archive" for just two weeks.
Our podcast playlists are forthcoming on this site, but for now the bands are listed inside the podcast description. Music you hear on The Children's Hour podcast was included with full permission from the artists.
Contact us if you have any questions or comments about the music you hear on The Children's Hour.