Podcast: Play in new window
Subscribe: RSS
We're getting inspired by the two time Grammy nominated Alphabet Rockers founders, Kaitlyn McGaw and Tommy Shepherd. Plus we hear from the kids in the Extinction Diaries about how sharks are used in cosmetics and other products. This show has excellent music, and will inspire kids of all ages to become change makers.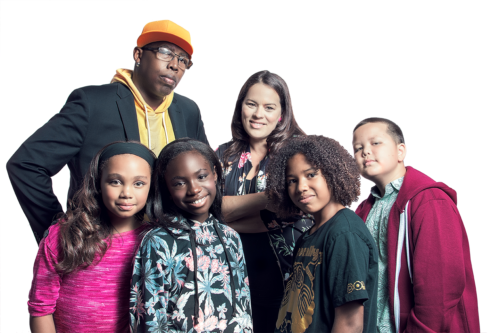 Alphabet Rockers make music that makes change. Known as the preeminent children's hip hop artists to focus on social change and racial justice, they are consciousness in motion. They spark an intergenerational conversation about the world through music and dance. Partnering with thought leaders on anti-bias and child development, they create empowered, engaging concerts and activities for young children, families, and educators.
The Alphabet Rockers have developed an anti-racism mini-training for kids, families and teachers called We Got Work To Do.  Learn about bias, oppression, and where kids have power to stand up to hate, and make change.
Get Inspired Playlist
| title | artist | album | label | duration |
| --- | --- | --- | --- | --- |
| The Zoom Song | The Tallest Kid in the Room | The Zoom Song - Single | 2020 The Tallest Kid In The Room | 03:09 |
| Vibes (feat. Alphabet Rockers & Denzil Findley) | SaulPaul | Be the Change | 2020 ReRoute Music Group | 03:14 |
| My Light | Alphabet Rockers | Rise Shine #Woke | 2017 School Time Music LLC | 02:07 |
| Say Word (Instrumental) | Secret Agent 23 Skidoo | Infinity Plus One | 2016 Underground Playground | 01:10 |
| Black Gxrl Magic (feat. Samara Atkins, MADlines, Lillian Ellis, Maya Fleming, RyanNicole & Honey Mahogany) | Alphabet Rockers | The Love | 2019 School Time Music LLC | 03:27 |
| Shine | Alphabet Rockers | Rise Shine #Woke | 2017 School Time Music LLC | 03:22 |
| Invocation of the Duke | DaKah Hip Hop Orchestra | Unfinished Symphony | 2002 Stravingus Records | 01:11 |
| Just Be (feat. Mahawam & Billy Dean Thomas) | Alphabet Rockers | The Love | 2019 School Time Music LLC | 02:47 |
| Fascinating Sharks | Birdsong and the Eco-wonders | If I Were a Fish (And Other Ocean Songs for Kids) | 2011 Little Ones Music | 02:51 |
| Something Inside (feat. Aneesa Folds & Namarah McCall) | Little Green Monster Project | Something Inside (feat. Aneesa Folds & Namarah McCall) - Single | 2020 Well Beings Studio | 02:15 |
| Kind Words | Claudia Robin Gunn | Kind Words - Single | 2020 Claudia Robin Gunn | 04:03 |
| Don't Be Mean, Be Nice | The Cool Chips | The Cool Chips - EP | 2020 CN Records | 03:58 |