Podcast: Play in new window
Subscribe: Apple Podcasts | RSS
When we witness someone being bullied, sometimes we just want to tell them to "Back off, Bully!" But that's not always easy, or a safe thing to do. On this edition of The Children's Hour, we learn about bystander intervention with Hollaback educators. The Kids Crew find out what are the 5 D's which give us tools to best respond when someone is being bullied.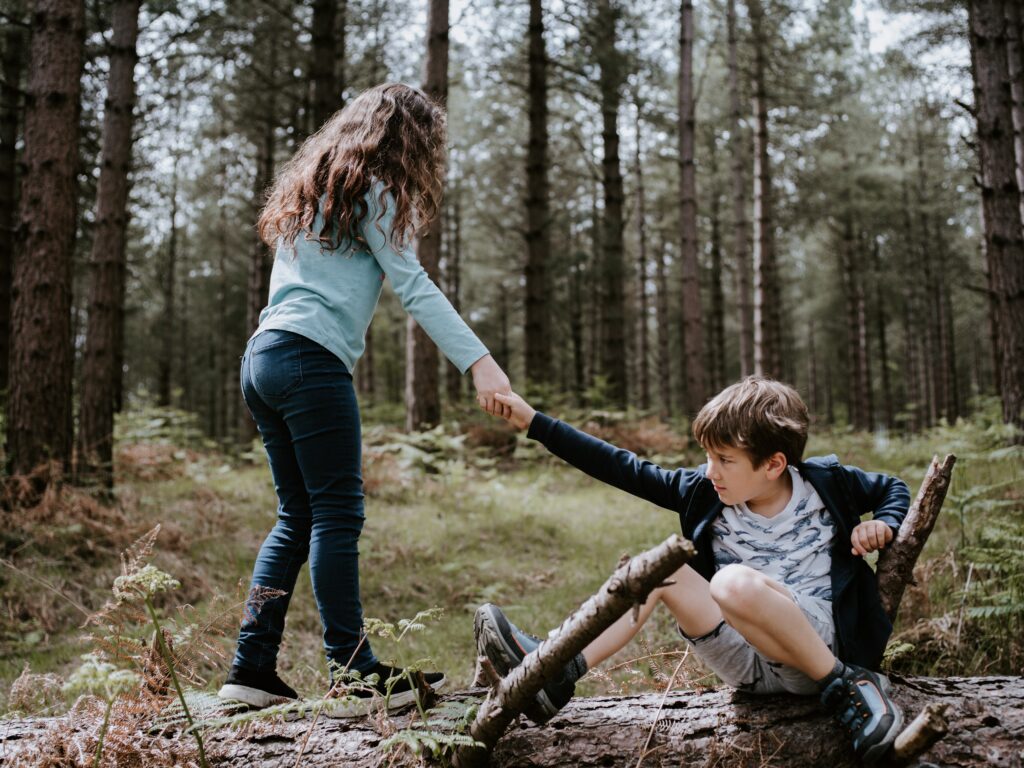 The Five D's of bystander intervention are: Distract, Delegate, Document, Delay, and Direct. We explore each of these on the show, and iHollaback has created a series of videos for children ages 3 to 10 to explain the 5 Ds.
There's also bully bystander education available for teens and adults, in schools or the workplace. Find more resources at iHollaback.org.
This show is mixed with excellent music!
Playlist Back Off Bully
| title | artist | album | label | duration |
| --- | --- | --- | --- | --- |
| Stereotype | The Happy Racers | Single | 2021 SpinBoxClub | 02:27 |
| Be a Pain | Alastair Moock | Be a Pain - An Album for Young (And Old) Leaders | 2020 Alastair Moock | 03:55 |
| Starling | Podington Bear | Solo Instruments | 2014 HUSH | 01:00 |
| Bully Bubba | Uncle Brothers, The | Big Bully - The Best Foot Forward Children's Music Series from Recess Music | 2011 Big Round Records | 02:38 |
| Quasi Motion | Kevin MacLeod | Primal Drive | 2014 Kevin MacLeod | 01:00 |
| You Hurt My Feelings | Troubadour | Are We Almost There? | 1999 A Gentle Wind | 03:42 |
| Don't Laugh at Me | The Mosaic Project, featuring Brett Dennen | Children's Songs for Peace and a Better World (feat. Brett Dennen) | 2003 The Mosaic Project | 03:37 |
| I Hear Echoes | Ketsa | Single | 2020 Ketsa Reiki Music | 01:20 |
| Can You Imagine | Leslie Bixler | Big Bully - The Best Foot Forward Children's Music Series from Recess Music | 2011 Big Round Records | 03:42 |
| Please Stop Hurting My Feelings | Mike Soloway | Hungry for Manners - Songs of Kindness, Politeness and Love | 2005 Pug Records | 02:43 |
| Stand Up for You | Alphabet Rockers | Rise Shine #Woke | 2017 School Time Music LLC | 02:50 |
| Stand Up to the Bully | The Hipwaders | The Hipwaders | 2005 The Hipwaders | 02:40 |
| Funk Bright | Ketsa | single | 2021 Ketsa Reiki Music | 01:12 |
| I'll Speak Out | Sooz | Stand Up Speak Out | 2010 Soozaroo Music | 03:53 |