Podcast: Play in new window
Subscribe: Apple Podcasts | RSS
This week we explore a creature that used to live throughout the mountain west United States, the elusive black footed ferret.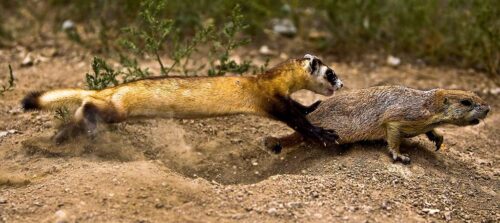 Once declared extinct, the highly endangered specialist predator may make a comeback in the North American prairie thanks in part to our guest, Paul Marinari, Senior Curator at the Smithsonian Conservation Biology Institute at the National Zoo. We'll have an introduction to Elizabeth Ann, a ferret cloned from cells frozen in 1987.
There's a lot of great music to sing and dance to while we learn all about black footed ferrets!
Learn More!
Read about Elizabeth Ann, the cloned ferret!
The black footed ferret has its own webpage! Learn lots more about them at BlackFootedFerret.org 
Be part of the solution to save black footed ferrets! Learn more here!
Visit Paul Marinari's webcam and ferret research center at Smithsonian Conservation Biology Institute! 
Playlist Black Footed Ferrets
| title | artist | album | duration | label |
| --- | --- | --- | --- | --- |
| A Place in the Choir | Terri Hendrix | Celebrate the Difference | 02:44 | 2005 Wilory Records |
| A Song About Ferrets | Karen Potje | Can't Help But Love You, Baby | 02:24 | 2008 ombu productions |
| Black Footed Ferret | The Whizpops! | Ranger Rick's Trail Mix Vol. 1 | 02:33 | 2016 The Whizpops LLC |
| The Prairie Dog Song | Melody and Chris Scott | single | 01:10 | 2008 Chris Scott |
| Pretty Prairie | 4mat | single | 00:47 | 4mat |
| Prairie Riddles | Farmer Jason & Iris DeMent | Nature Jams | 04:24 | This Compilation 2012 Jason Ringenberg, under exclusive license in the U.S. to Universal Music Enterprises, a Division of UMG Recordings, Inc. |
| Bring Back The Black Footed Ferret | Monty Harper and the Richmond Elementary 4th Grade from 2013 | single | 02:48 | 2013 Monty Harper Music |
| Brush My Teeth | The Beatbuds | The BeatBuds, Vol. 3 | 00:33 | 2018 BeatBuds Media, LLC |
| Black Footed Ferret | Mr. T and Friends | single | 03:19 | 2021 Allan Thurlow |
| Animals in Danger | Johnny and the Raindrops | Songs for Little Learners | 03:53 | 2016 Raindrops Recordings |
| Prairie Dog | Walkin' Jim Stoltz | The Web of Life | 02:15 | 1996 Wild Wind Records |
| 200 Worms | Koo Koo Kanga Roo | Slow Clap | 02:59 | 2021 Koo Koo Kanga Roo |