Podcast: Play in new window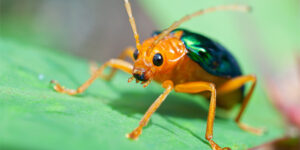 This episode of The Children's Hour will bug you! We get bugged with the ABQ Biopark's Curator of Entomology, Jason Schaller. Jason's passion for insects is infectious. We explore Jason's stand out, favorite bugs around North America region by region. Plus we hear from the kids in the Extinction Diaries about the plight of insects around the world. Mixed with great music, jokes, and plenty of kids commentary to entertain and educate children of all ages.
---
The Children's Hour is supported by the Cultural Services Department and the Urban Enhancement Trust Fund at the City of Albuquerque, city councilor Pat Davis, as well as Bernalillo County, New Mexico's Commission. This project is supported in part by an award from New Mexico Arts, a division of the Department of Cultural Affairs, and by the National Endowment for the Arts. We also have support from Electric Playhouse and numerous foundations also support our work including the Infinite Gesture Fund, The Limestone Fund, and The Laughing Buddha Fund. Thank you to our listeners who contribute to us through the Paypal Giving Fund, Paypal, and by subscribing to our podcasts on Patreon.
---
| duration | title | artist | album | label |
| --- | --- | --- | --- | --- |
| 01:05 | Hairy Little Bug (Dancing on My Toilet) | Danny Weinkauf | Dinosaurs and Metaphors | 2020 Red Pants Music |
| 04:50 | There Ain't No Bugs On Me | David Grisman & Jerry Garcia | Not for Kids Only | 1993 Acoustic Disc |
| 02:15 | Billy The Bee | The BeatBuds | The BeatBuds Vol 1 | 2018 The BeatBuds |
| 01:57 | Katy Caterpillar | Key Wilde & Mr. Clarke | Animal Tales | 2014 Worm Hole Productions |
| 02:43 | Bug Patrol | Mr Kneel | Mr Kneel's the Littleague | 2008 Mr Kneel |
| 04:03 | Bug Out | The Pop Ups | Appetite For Construction | 2014 Pop Up City Records |
| 00:58 | I'd Hug a Bug If I Could | Timothy Finn | Wildflowers | 2014 Various Artists |
| 01:39 | A Flea and a Fly In a Flue | Cathy Fink & Marcy Marxer | Rockin' the Uke | 2011 Cathy Fink & Marcy Marxer |
| 02:40 | Slugs & Bugs | Walkin' Jim Stoltz | A Kid for the Wild | 1990 Wild Wind Records |
| 03:12 | The Itsy Bitsy Spider Took the 'A' Train | The Big Kidz Band | Indian Elephant Tea (Special Edition) [feat. Skip Ewing] | 2010 Write! Records |
| 01:17 | Flight of the Bumblebee | Isaac Stern, Milton Katims & Columbia Symphony Orchestra | Isaac Stern: 'Humoresque' - Favorite Violin Encores (Expanded Edition) | 1973, 1998 SONY BMG MUSIC ENTERTAINMENT / Originally released 1963 SONY BMG MUSIC ENTERTAINMENT |
| 02:08 | Lady Bug | The Terrible Twos | If You Ever See an Owl... | 2007 BMG Rights Management (US) LLC d/b/a Vagrant Records |
---
Below are photos of the insects mentioned on the show. In order from left to right, top to bottom, these are: Elephant Stag Beetle, Luna Moth, Regal Moth, Hickory Horn Devil (Regal moth caterpillar), Hawk Moth, Atlas Moth, Eastern Hercules Beetle, Two Stripe Stick Insect, Rain Beetle, Giant Silk Moth, Bombardier Beetle, Tarantula Hawk Wasp