Podcast: Play in new window
Subscribe: Apple Podcasts | RSS
Take a trip to Chaco Canyon with The Children's Hour with our special guests, Hilary Grabowska, Park Ranger (Interpretation) at Chaco, Wendy Bustard, Chaco Curator, Brenna Lissoway, Chaco Archivist, and 6 year old Rowan Lissoway who recently earned his Junior Ranger badge at Chaco.
This UNESCO world heritage site was the center of pueblo civilization just 1000 years ago, and then was abandoned. Learn the story of Chaco Canyon and what it offers for families today.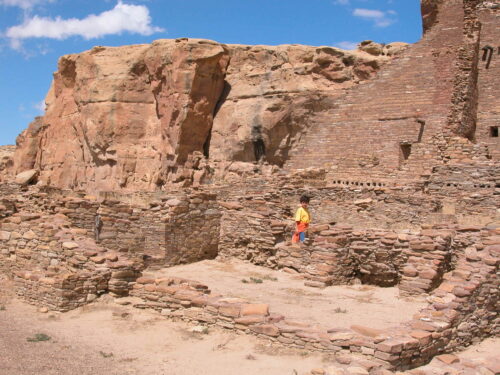 The National Park Service has prepared numerous educational materials around Chaco Canyon for all grade levels. Just click the link to access these tools for classrooms and kids of all ages.  The film, The Mystery of Chaco Canyon, explains some of the astronomical measurements that the park was used for, and has an excellent curriculum guide of its own for teachers.