Podcast: Play in new window
Subscribe: Apple Podcasts | RSS
Are you hungry, because we're cooking on this episode of The Children's Hour. We'll be making a kale salad with Kids Cook's Sara Robbins. The recipe is below and we hope you'll make it with us! Plus the kids on the crew share their favorite recipes, and we have even more that we are posting here. Just scroll down for photos, videos and more to help you get cooking with kids!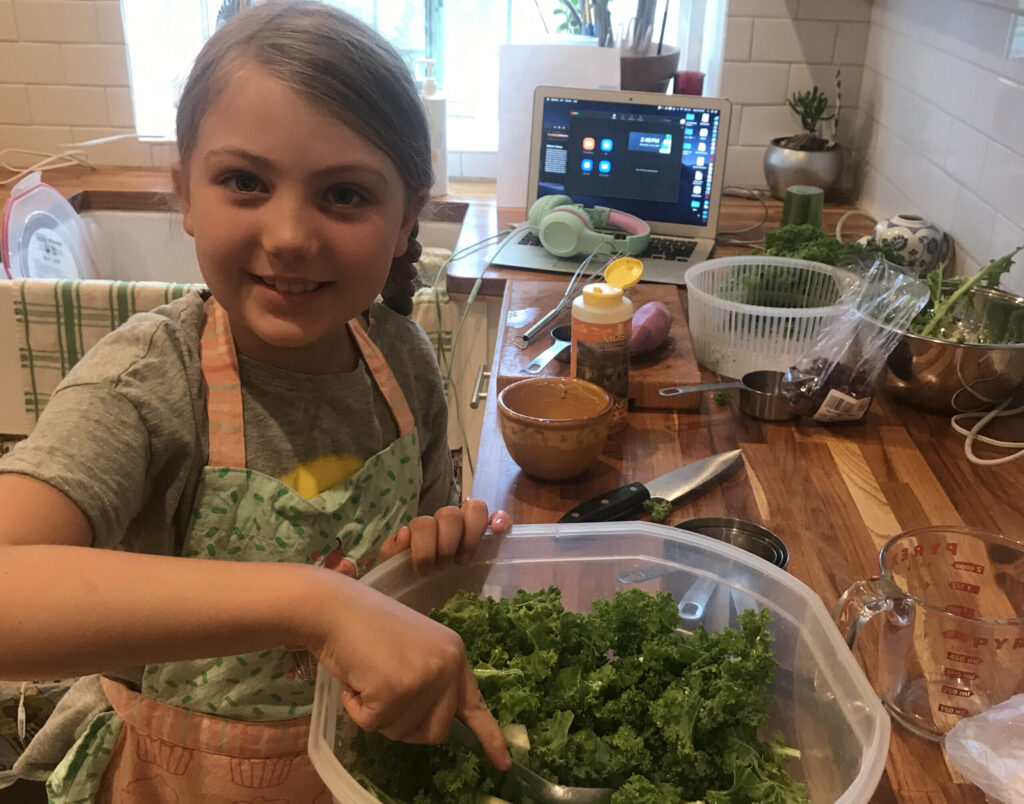 We also have a book series review from our Kids Crew member Zander of My Big Fat Zombie Goldfish by Mo O'Hara.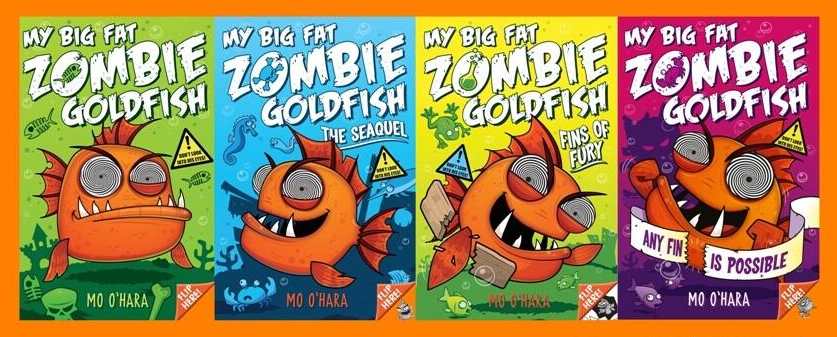 Follow along with the recipe for Kale Salad, posted here!
How to safely hold a sharp knife in three photos: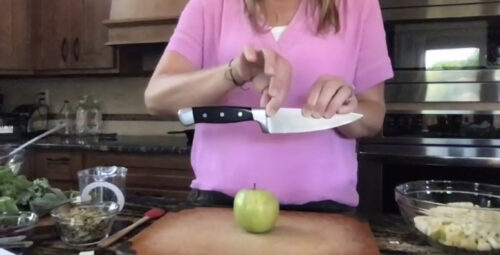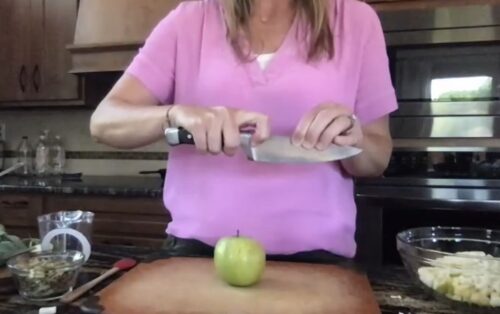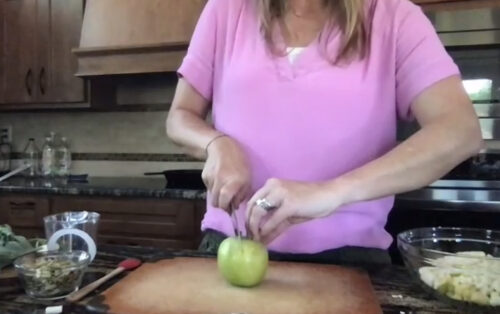 ---
More recipes from The Children's Hour:
Melissa's Yummy Yummy Fruit Salad
Isaac's Brazilian Cheese Bread (Gluten Free!)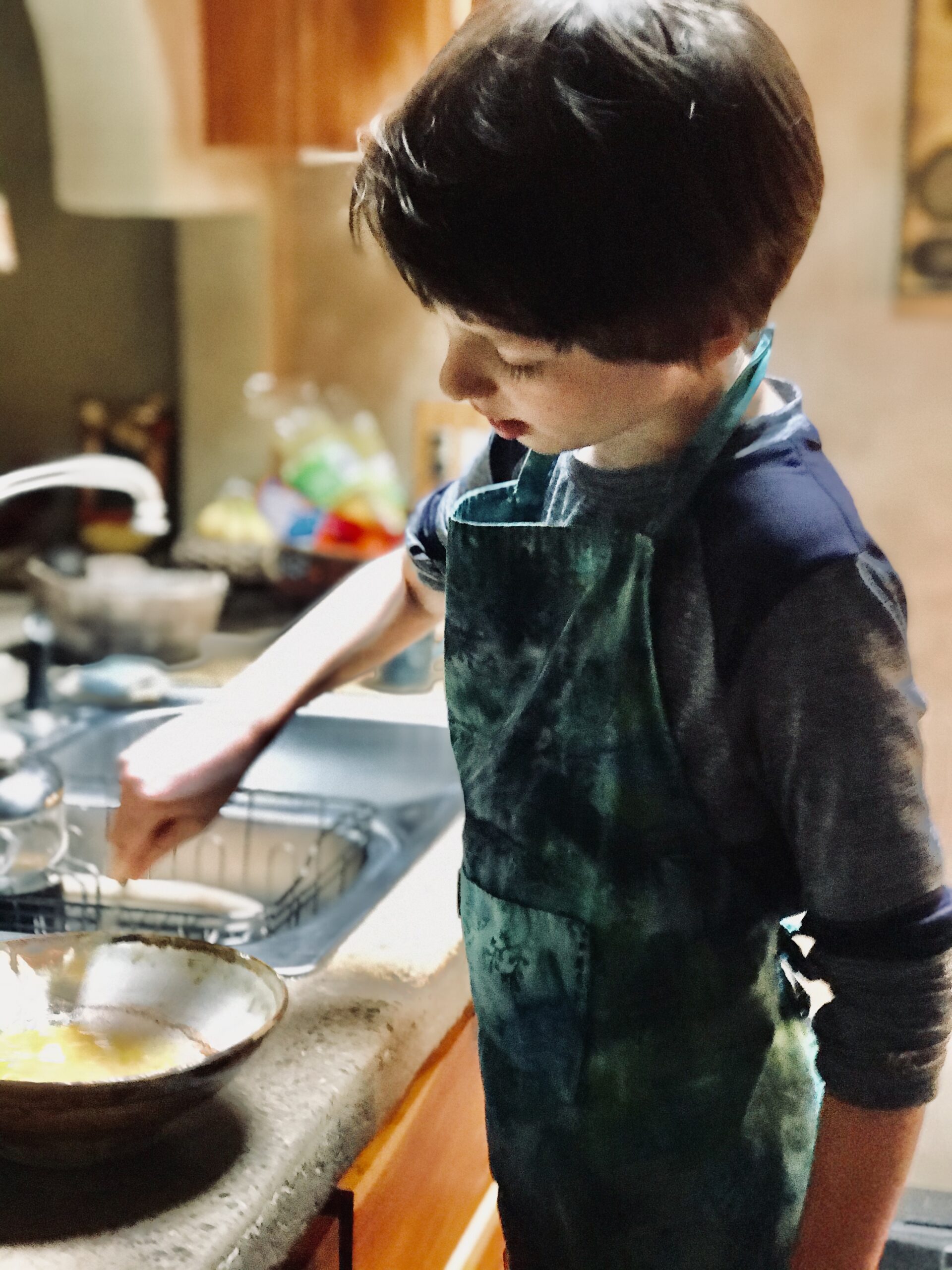 This episode is mixed with great music! Get inspired, and get hungry enough to cook with The Children's Hour!
Playlist: Cooking With Kids
| title | artist | album | label | duration |
| --- | --- | --- | --- | --- |
| Farmer's Market Good | Tom Chapin | Give Peas A Chance | 2011 Tom Chapin | 03:17 |
| Banana Bread | Caspar Babypants | Away We Go! | 2016 Aurora Elephant Music | 02:23 |
| Garden John | Todd McHatton | Grass Stained Twilight | 2008 Todd McHatton | 01:09 |
| Well and Good | Podington Bear | Soul | 2018 HUSH | 01:01 |
| Fruit Salad | The Wiggles | Yummy Yummy (Classic Wiggles) | 1994 The Wiggles Pty Ltd. Exclusively licensed to Australian Broadcasting Corporation. | 02:28 |
| Cheese, Peas, Pickles and Bananas | Nora O'Connor & Steve Frisbie | The Bottle Let Me Down - Songs for Bumpy Wagon Rides | 2002 Bloodshot Records | 02:53 |
| Egg Salad in the Sun | Gunnar Madsen | I Am Your Food | 2018 Gee, Spot! Records | 03:40 |
| Bananaphone (Instrumental) | Snooze Tunes for Babies | Lullaby Tribute: Raffi | 2012 Rockabye Lullaby | 00:49 |
| Picnic March | Blue Dot Sessions | Bitters | 2019 Blue Dot Sessions | 01:45 |
| Junk Food | Wookiefoot | Be Fearless and Play | 2009 Wookiefoot | 03:31 |
| Cookies | Keller Williams featuring Fareed Haque | Dream (Bonus Track Version) | 2007 SCI Fidelity Records | 01:05 |
| I Hear Echoes | Ketsa | Single | 2021 Ketsa Reiki Music | 01:15 |
| French Toast | Mr. Saxophone | Songs from the Treehouse | 2007 Mr. Saxophone | 02:57 |
| I Love Cookies (feat. Hoku) | Go Banana Go! | Hi-Ya! | 2020 Santa Monica Recordings | 01:39 |
| Shortnin' Bread | Selloane With Famoro Dioubate | Putumayo Kids Presents Jazz Playground | 2010 Putumayo | 01:25 |
| Tacobel Canon | Christine Lavin & The Mistletones | The Runaway Christmas Tree | 2003 2003 Appleseed Recordings | 01:46 |