Podcast: Play in new window
Subscribe: Apple Podcasts | RSS
On this episode of The Children's Hour, the Kids Crew talk with an exoplanetologist, Dr. Diana Dragomir. We discover what an exoplanet is, and how astronomers find them in a vast sea of stars. Learn if there's life outside our solar system, and how you can help in the search.
Plus we'll hear from the kids in the Extinction Diaries about the current condition of the Amazon rainforest.
All of this is mixed with great music that's sure to take you out of this world including songs by the Green Chile Jam Band, Justin Roberts, Monty Python, The BeatBuds, Claudia Robin Gunn, Phredd, Raffi, SaulPaul, and Charity And The JAMband.
Here is a poster of an artist's rendition of real exoplanets that have been discovered. Click here for full size poster.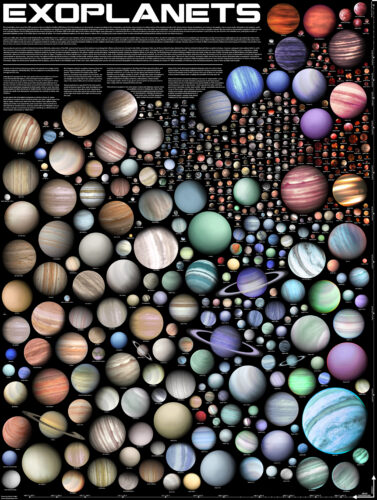 Here's NASA's Exoplanet page that includes some coloring pages for kids!
Want to help hunt for exoplanets? Here are some sites to get started:
https://agentexoplanet.lco.global/planets/
https://www.zooniverse.org/projects/marckuchner/planet-patrol/
https://spaceplace.nasa.gov/all-about-exoplanets/en/
Want to learn more about exoplanets by watching a video? Check this out:
Exoplanets Playlist
| title | artist | album | label | duration |
| --- | --- | --- | --- | --- |
| Looking for a Planet | Green Chili Jam Band | Coconut Moon | 2009 Green Chili Jam Band | 04:00 |
| Nine Planets | Justin Roberts | Not Naptime | 2002 Justin Roberts | 02:35 |
| Galaxy Song | Monty Python | Stephen Hawking Sings Monty Python... Galaxy Song (feat. Stephen Hawking) - Single | 2015 Virgin Records | 02:41 |
| Tastes Like Space (Instrumental) | Secret Agent 23 Skidoo | Infinity Plus One | 2016 Underground Playground | 00:51 |
| The Planets Song | The BeatBuds | The BeatBuds, Vol. 2 | Jonathan Jonah and Matthew Shapiro | 02:35 |
| How Far Is a Lightyear (Solar System Song) | Claudia Robin Gunn | Little Wild Universe | 2020 Claudia Robin Gunn | 03:03 |
| Space Lizards | Phredd | Phreddtastic | 2009 Smart Records | 00:46 |
| Space Probe | Metre | Circuit | FreeMusicArchive | 01:31 |
| Blue White Planet | Raffi | Love Bug | 2014 Troubadour Music Inc. Under exclusive license to Rounder Records. Manufactured and distributed by Concord Music Group, Inc. | 03:08 |
| Stardust (feat. Mo Phillips) | SaulPaul | Be the Change | 2020 ReRoute Music Group | 03:00 |
| We Are Stardust | Charity and the JAMband | Party Like a Twinkle Star | 2009 Charity Kahn | 04:09 |
| Space Travel | Borrtex | Distant Sphere - EP | 2018 Borrtex Music Production | 03:17 |
| Earth From Outer Space (feat. K'naan) | Michael Franti & Spearhead | All People | 2013 Boo Boo Wax, Under Exclusive License To Capitol Records, LLC | 02:56 |