Podcast: Play in new window
Subscribe: Apple Podcasts | RSS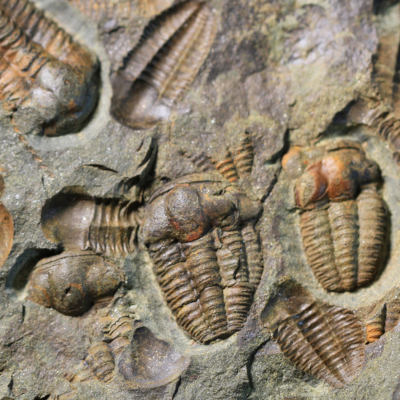 Learn about fossils in a Kids Crew field trip to a secret fossil quarry in the mountains outside of Albuquerque, as well as in a chat with New Mexico Natural History Museum educator Mike Sanchez. Will we become fossilized too? Fossils teach us about the Ice Age and climate change at the La Brea Tar pits in the heart of Los Angeles. This episode comes with a Learn-Along guide and is mixed with great music.
This episode comes with a hands-on Learn-Along guide which meets and cites US National education content standards for use in the classroom.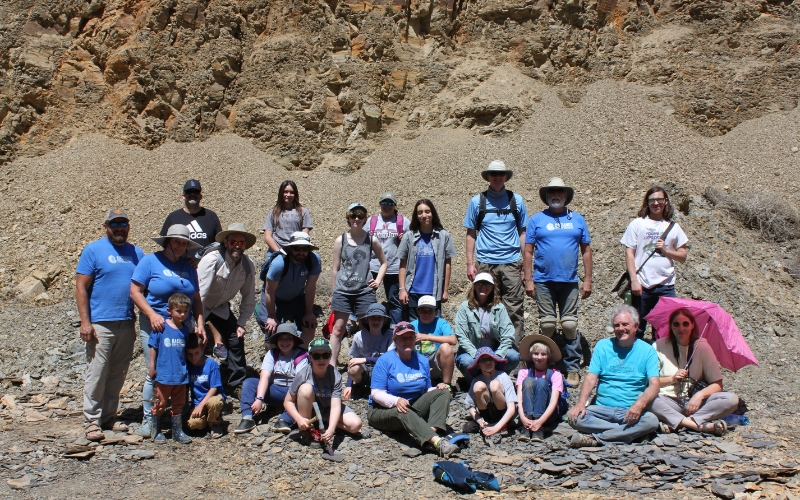 The Kids Crew took a summer field trip to a secret fossil dig site located in an active mining quarry in the mountains of New Mexico. They spoke with the paleontologists working to extract 350 million year old fossilized marine creatures and plants.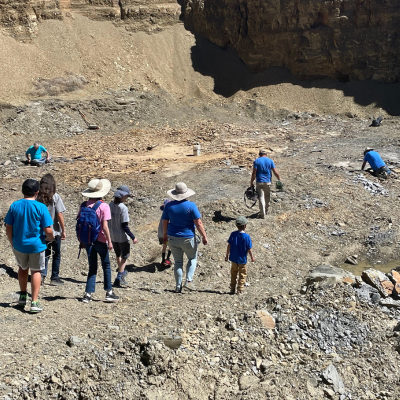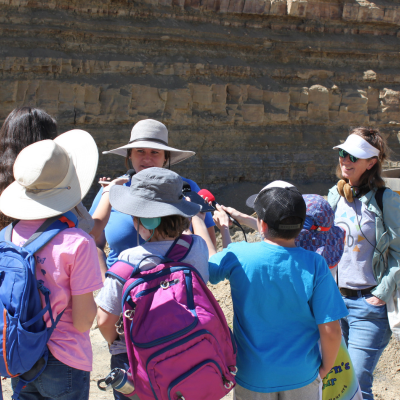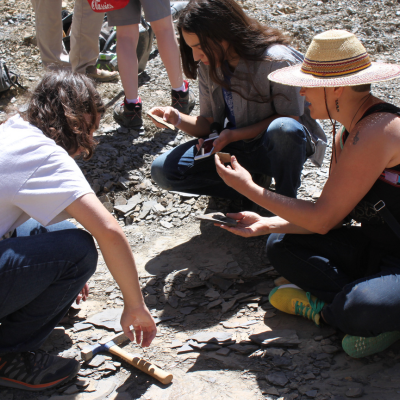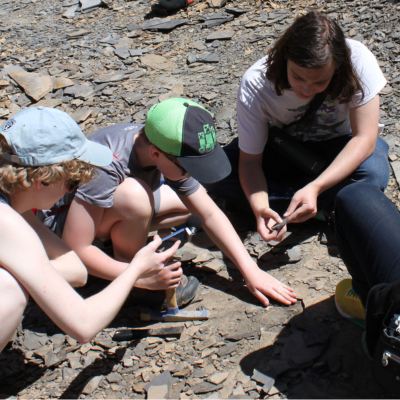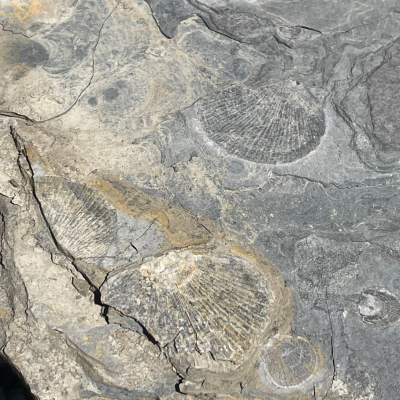 Then, Kids Crew member Amadeus Menendez is a longtime volunteer at the New Mexico Museum of Natural History and Science. To help us understand how fossils are made, he spoke with NMMNHS educator Mike Sanchez to learn more about how fossils develop, and dispel myths about what constitutes a fossil.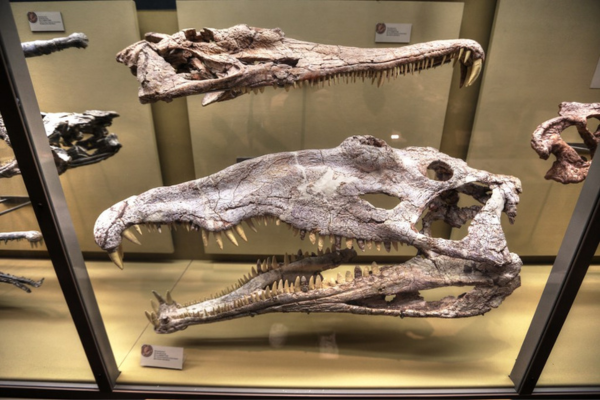 We also spoke with Dr. Emily Lindsey, she's the Assistant Curator and Excavation Site Director at the La Brea Tar Pits and Museum in Los Angeles, California. The tar pits perfectly preserved animals, plants, people and anything that fell into them over the last 60,000 years. They have found long extinct animals, like giant camels and sloths, as well as humans, insects, and critters who couldn't escape the sticky, oily tar.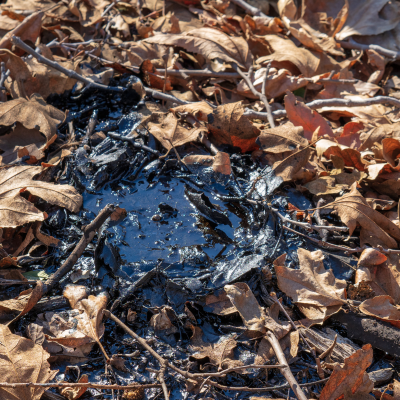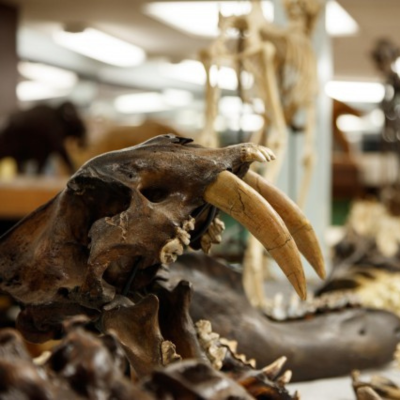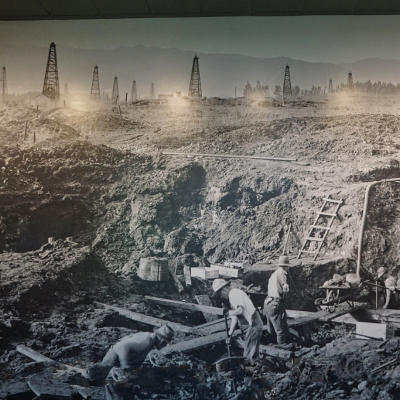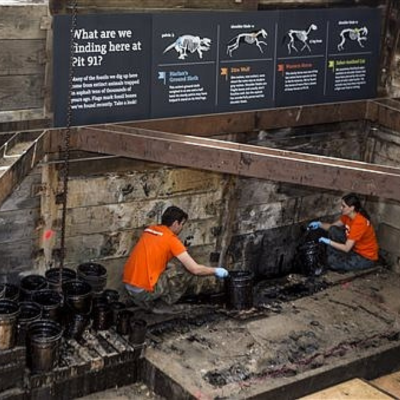 This episode was recorded at a super secret fossil dig site in the mountains of New Mexico, at the New Mexico Museum of Natural History & Science, and the Sunspot Solar Studio in Albuquerque, New Mexico. Many thanks to Amanda Cantrell and Thomas Suazo from Badlands Scientific Expeditions for taking our Kids Crew on the fossil field trip.
We had production help from the Kids Crew & their parents, as well as Amadeus Menendez. Production help came from Eli Henley and our Senior Producer, Christina Stella. Katie Stone is our Executive Producer. Our Learn-Along guide was written by Jonathan Dunski with help from Lorraine Archibald.
© The Children's Hour Inc.
| title | artist | album |
| --- | --- | --- |
| Dinosaurs (Fossils) | Jessie Farrell & the Gumboot Kids | Sparkle & Shine |
| To Be a Fossil | Lunch Money | Science Fair |
| Dino Dance (feat. Jordan O'Connor & Greg O'Connor) | Susie Tallman | Animal Songs |
| I Am a Paleontologist | They Might Be Giants (For Kids) & Danny Weinkauf | Here Comes Science |
| Climbing the Mountain | Podington Bear | The Box Set |
| I'm a Little Dinosaur | Jonathan Richman & The Modern Lovers | Roadrunner: The Beserkley Collection |
| Continental Drift | The Amoeba People | !Cosmigos! |
| I Remember You, Lucy | The Deedle Deedle Dees | Sing-A-Long History, Vol. II: The Rocket Went Up! |
| Fossils | Mister Cooper | This World |
| The Gift | Audiobinger | I Used To Love Hip-hop |
| Finding Fossils | Press Play Picture House | Finding Fossils - Single |
| The Paleontologist Song | ABC Kids | Dinosaur Songs |