Podcast: Play in new window
Subscribe: Apple Podcasts | RSS
This time on The Children's Hour, we learn about frogs and toads, with Senior Zoologist of the ABQ Biopark Zoo's Amphibians and Reptiles, Josh Butler.
Josh showed us the Colorado River Toad – the largest toad in the United States which lives in southwestern New Mexico and into Arizona.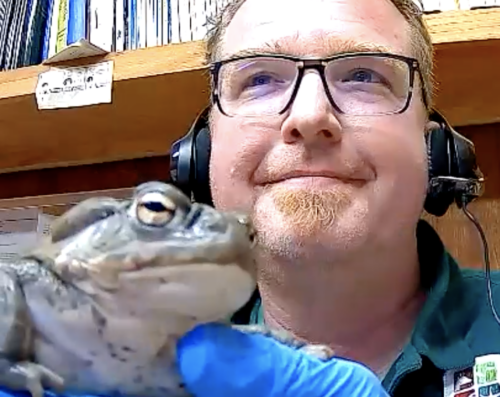 We have a lot of questions about these ancient creatures. We also hear from the kids in the Extinction Diaries who have a warning about the shrinking populations of frogs.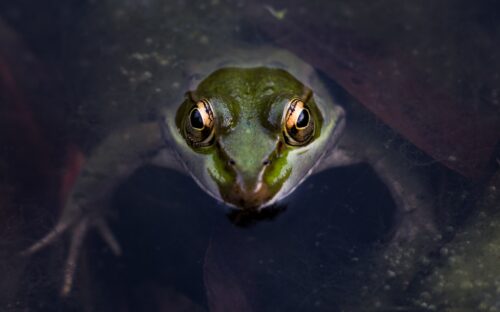 We've got great music on this show. Learn with us!
TCH Frogs Toads Playlist
| title | artist | album | duration | label |
| --- | --- | --- | --- | --- |
| Toad Song | Keali'i Reichel | Kamahiwa - The Keali'i Reichel Collection | 02:38 | 2004 Punahele |
| Five Green and Speckled Frogs | Miss Lynn | Outside the Lines | 01:13 | 2008 Miss Lynn |
| Two Frogs | Liam Lynch | Songs from Lynchland, Vol. 1 | 01:20 | 2006 111 Productions, Inc. |
| Archey's Frog Song | fleaBITE | Snakes Alive (It's Fleabite 5) | 02:52 | 2021 fleaBITE |
| Frog Legs Rag | Ragtime Music Unlimited | Ragtime Classics (James Scott's Ragtime Masterpieces) | 01:17 | 2011 Amathus Music |
| Bubba (The Frog) | Bungee Jumpin' Cows | Rock Candy | 05:32 | 1997 Bungee Jumpin' Cows |
| Froggie on My Windowsill (feat. Timothy James Uecker) | Kelli Welli | Turtle Doggie Monkey Froggie La La La La La! (feat. Timothy James Uecker) - EP | 03:55 | 2016 Kelli Caldwell |
| Frog Dream | Chad Crouch | Field Report Vol. 6: Bayocean Peninsula | 01:39 | 2020 Sound of Picture |
| When Bullfrogs Croak | Zak Morgan | When Bullfrogs Croak | 03:46 | 2003 Zak Morgan |
| Hopping Black Toad | Lobo Loco | Window Forecast | 00:51 | 2020 Sandsofa Studios |
| Frog Trouble | Mark Lanegan | Sandra Boynton's Frog Trouble | 03:12 | 2013 Boynton Recordings |
| A Frog Named Sam | Ben Rudnick and Friends | A Frog Named Sam | 03:26 | 2009 Bartlett Ave. Records |
| It's Not Easy Being Green | Rex Hobart & The Misery Boys | The Bottle Let Me Down - Songs for Bumpy Wagon Rides | 02:21 | 2002 Bloodshot Records |
| La Rana | Jose-Luis Orozco | Esta Es Mi Tierra Con Jose-Luis Orozco | 02:46 | 1998 Arcoiris Records, Inc. |
| I Hope That Somethin' Better Comes Along | Paul Williams & Kenny Ascher | The Muppet Movie (Original Motion Picture Soundtrack) | 01:36 | This Compilation 1979 Henson Associates, Inc. |