Podcast: Play in new window
Subscribe: Apple Podcasts | RSS
This time on The Children's Hour we learn about the official musical style of Washington DC, GoGo and how it relates to HipHop, with "drumcussionist" and children's media creator, Uncle Devin. He's the founder of WeenationRadio which showcases performers of color to family audiences worldwide.
Uncle Devin chats with the Kids Crew about HipHop & GoGo and what makes each musical style unique. He also guest DJ's our show, so you can expect to hear great music the whole hour.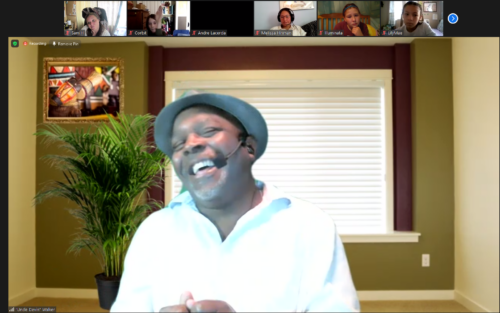 Join us for a musical exploration of HipHop and GoGo with Uncle Devin!
This show was originally broadcast in May 2021.
Hip Hop & GoGo Playlist
| title | artist | album | duration | label |
| --- | --- | --- | --- | --- |
| Sharing Is Caring (feat. Adobe Moon Amarche, Kiera Emelia Colline & Sania Sky Kenyatta Starnes) | Groovy Nate | Meet Groovy Nate | 02:42 | 2009 Groovy Nate |
| It's the Beatbox | Christylez Bacon | Hip-Hop Unplugged - EP | 02:14 | 2014 Christylez Bacon |
| Easter Monday | Uncle Devin | single | 03:25 | Weenation Radio |
| Mlk That Way | DJ WILLY WOW! & Chuck D | And the Crowd Goes Wow! | 04:10 | 2019 DJ WILLY WOW! |
| I Used to Love Hip-Hop | Audiobinger | FMA | 01:01 | Audiobinger |
| Dance | Ms. Janis | Moving Bodies and Inspiring Hearts, Vol. 1 | 01:45 | 2009 Ms. Janis |
| Buckle My Shoe | Lady Lux | Baby Jamz Presents Nursery Rhymes Vol.1 | 03:19 | 2010 Music World Kids |
| For All | The Wise Channel | Single | 02:52 | The Wise Channel |
| Sardines | Junkyard Band | Reunion - Live At Martin's Crosswinds Ballroom | 00:30 | 1996 Street Records & Tapes |
| Mary Mary Quite Contrary | Keli Nicole | Baby Jamz Presents Nursery Rhymes Vol.1 | 02:59 | 2010 Music World Kids |
| Clap Your Hands | The Magic Jones | Adventures of the Music Box - EP | 02:19 | 2020 Milk N Sizz Music |
| Throwdown | Class of 3000 | Music Volume One | 02:52 | 2007 LaFace Records LLC |
| Movies and Popcorn and Video Games | Pierce Freelon | D.A.D | 02:07 | 2020 Blackspace |
| Handbone | Big Don | Big Don's Brand New Beat | 02:46 | 2012 Big Don Productions, LLC |
| Celebrate (feat. Nikki B) | SaulPaul | Be the Change | 01:26 | 2020 ReRoute Music Group |