Podcast: Play in new window
Subscribe: Apple Podcasts | RSS
We celebrate the holidays this week on The Children's Hour. It's a musical special, full of new and beloved Christmas carols and Hanukkah songs.
We also hear the world radio debut of Santa Soaked, told by its author Carl Lindemann from CapeTown South Africa. How will Santa deliver presents on a sleigh reliant upon snow as the climate warms? Kids have some great ideas to help him solve his sticky situation. Find the e-book of Santa Soaked online.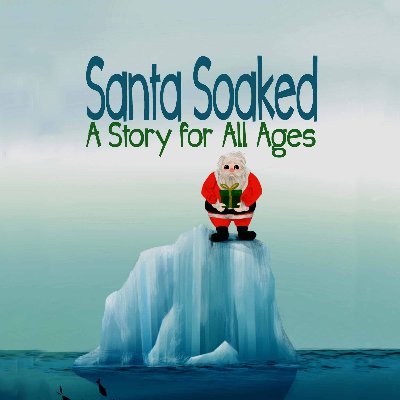 Happy Holidays from all of us on The Children's Hour.
Playlist Holidays
| title | artist | album | label | duration |
| --- | --- | --- | --- | --- |
| Winter Wonderland | Joanie Leeds & FYUTCH | Oy Vey! Another Christmas Album | 2022 Joanie Leeds | 02:47 |
| Holly Jolly Christmas | The Laurie Berkner Band | Another Laurie Berkner Christmas | 2022 Two Tomatoes Records, LLC., Distributed by Concord. | 02:06 |
| Christmas Riddles | Farmer Jason | Christmas On the Farm With Farmer Jason | 2014 James Ringenberg | 05:06 |
| Oh Christmas Brie | Rocknoceros | Happy Holidays | 2015 Rocknoceros | 01:04 |
| Up On the Rooftop | Rocknoceros | Happy Holidays | 2015 Rocknoceros | 02:13 |
| Jesus's Birthday | Bob Rivers | More Twisted Christmas | 1997 Atlantic | 02:32 |
| Christmas Twice a Day (feat. Suzy Cato) | Chris Lam Sam | Christmas Twice a Day (feat. Suzy Cato) - Single | 2022 Chris Lam Sam | 02:17 |
| Santa Claus Is Comin' To Town | Sid Fendley, David Parlato & Clifford Daniel Yost | The Gift of Christmas | 2021 3552922 Records DK | 00:58 |
| Santa Claus is Comin' to Town | Kari & Todd | Christmas in New Mexico | 2020 Kari & Todd | 02:09 |
| Santa Got Stuck in the Mud | Steve Pullara & His Cool Beans Band | Santa Got Stuck in the Mud - Single | 2021 Steve Pullara | 02:33 |
| Stuck In The Smokehole of our Teepee | Shoshoni Elder Oldhands | Original Aboriginal Christmas | 1991 Shoshoni Elder Oldhands | 02:45 |
| A Peaceful Winter | Scott Holmes Music | single | 2022 Scott Holmes | 01:07 |
| Hanukkah Blessings | Barenaked Ladies | Barenaked for the Holidays | 2014 Raisin' Records | 03:26 |
| Ocho Kandalikas (feat. Yasmin Levy) | Erran Baron Cohen | Erran Baron Cohen Presents: Songs In the Key of Hanukkah | 2008 This compilation WaterTower Music as licensee for Warner Bros. Entertainment Inc. | 00:09 |
| Ocho Kandelikas | Alisa Fineman | Closing the Distance; Poems, Prayers & Love Songs | 2004 Alisa Fineman | 03:37 |
| Chanukah Oh Chanukah / Ma'oz Tzur | Mama Doni Band | The Acoustic Jewish Holiday Collection | 2013 Mama Doni Production | 03:28 |
| What Do You Celebrate? (feat. Mil's Trills, Culture Queen, Lucy Kalantari, Hi Joe Kye!, Little Miss Ann, Strawbitty Yops, 123 Andres & Dean Jones) | Red Yarn | What Do You Celebrate? - Single | 2022 Red Yarn's Notebook, Amelia Robinson Music, LLC, Culture Kingdom Kids, LLC | 03:50 |
| Home For The Holidays | Claudia Robin Gunn | Little Wild Christmas, Vol. 2 | 2021 Little Wild Music | 02:03 |