The Children's Hour Inc. presents…
ICKY: A Radio Musical
Way back in the days before the end of The Big Sick, students everywhere were forced to stare at computer screens featuring live video feeds of their classmates. This was happening in bedrooms, living rooms, and kitchens across the country and the world. With the help (and the subconscious musings) of a dreamer named Halley, a team of super heroes discover that unity and togetherness can get them through any sicky situation.
Listen now to ICKY: A Radio Musical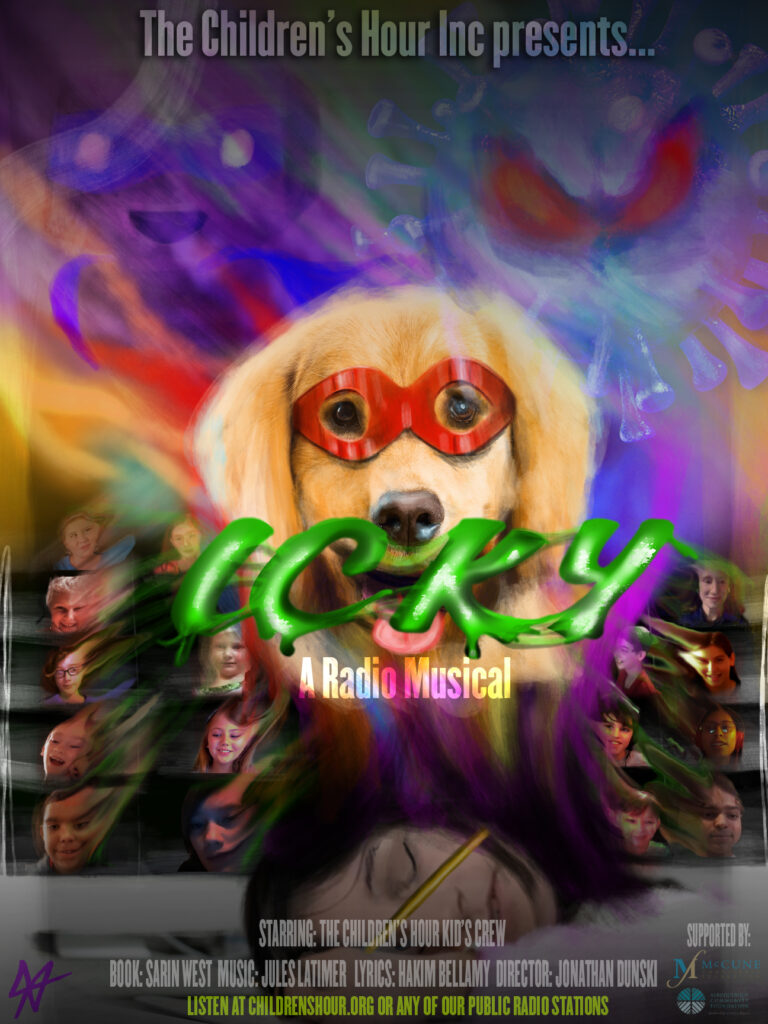 What did you think of ICKY? Help us measure our impact!

Making ICKY during lockdown
How did we make ICKY during a pandemic lockdown in New Mexico? We workshopped together with our creative team on Zoom, then we recorded ICKY in a field, each of us using our cars as a sound booth. We wore headphones that carried the sound of all our voices, plus the soundtrack instrumentals.
Previous
Next
By downloading ICKY: Learning Guide, you agree to fair use for purposes such as news reporting, research, and teaching.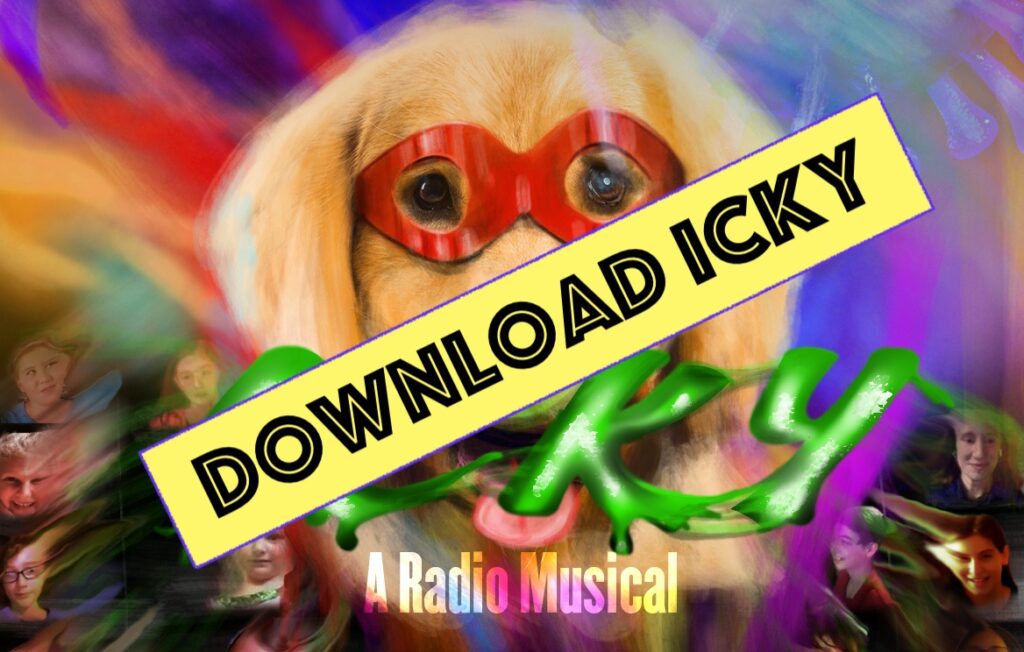 ICKY: Art Contest Winners
Previous
Next
1st Place: "Visitation" – Xander, 8
2nd Place: "Boredom" – Valerie, 16
3rd Place: "Sorrow" – Maya, 8
ICKY Creatives
Produced by Katie Stone 
Directed by Jonathan Dunski
Starring
The Kid's Crew, Sasha Menéndez,
Tania Hopkins & Katie Stone
Written by Sarin West
Composed by Jules Latimer Warren
Lyrics by Hakim Bellamy
Assistant Direction by Nicholas Main
Musical Direction & Arrangement by Sage Sarason
Scoring by Robb Janov
Sound Design by Jen Kraus
The ICKY Band:
Guitar by Kyle Malone
Drums & Percussion, Josh English
Keyboards, Shaun Hettinger
Bass, Paul Hunton
Violin, Robb Janov
Ukelele, Maya Malone
In The News
The Paper
Katie Stone guest writes a column all about ICKY and how it came to be. What inspired it and how all the creatives were assembled to create a once-in-a-lifetime creation. She explains how this musical opens up conversations about COVID-19 and kid's concerns about it.
New Mexico In Focus
Katie discusses ALL THINGS ICKY with Gene Grant from New Mexico in Focus, A Production of NMPBS. Watch the interview in its entirety here online. Find out how this sick icky came to life.
Hear the Podcast of the interview!
New Mexico Living
Katie zooms with Flavia Costa to discuss how ICKY came to be and how you can find it! Find the interview here!
Thank you so much Katie.
It's been great working for you. You have an amazing project and I loved what you said in the zoom about kids needing to be able to process what just happened during the pandemic and things like this are so helpful, great work!!
Jennifer K.Sound Design
A really fabulous endeavor. It was such a joy hearing it, and hearing about the collaboration that went into it. My 9 year old was entranced and, I think, felt he saw himself and his concerns reflected in the musical.
Preview Listener
Thank you for creating such a wonderful radio show for these kids to participate in.
It was fun to listen to! I think it has provided a meaningful recording of what we all
experienced this past year due to the pandemic!
Congratulations to all the creatives and technical staff that went into producing Icky!
Producing this quality performance using Zoom while following the CDC restrictions
was quite the Super Hero task! Thank you for allowing us to listen in!
Jo T.
You made my pandemic (& my son's too). Making something beautiful with beautiful people always helps to ease the plague. Thank you for letting my ride-a-long and word my way through the world. I feel like the musical was as much for my sanity as it was the youth. Your brilliance and professionalism shone through…I learned so much from all of you. Grateful to do that dang thing.
Let's do it again sometime, soonish.
Love. Love. Love.
Hakim B.Lyricist
All of it, but Zen was OUTSTANDING. Sarin's writing was beautiful and so on point.
Preview Listener
Wow- SO many great things- hard to choose. LOVED all the music and lyrics!
Preview Listener
It was an honor and a privilege for us to be a part of this. It was so nice to be part of such a supportive artistic community!
Sasha M.Narrator / Player
It was magically educational, creative and community building!
Celeste H.Parent
It was awesome to be a part of it and hear it progress, and see it all come together. Everyone working with the kids were positive and encouraging, and great in general! I'm really glad that Maya was a part of it.
It was awesome to be a part of it and hear it progress, and see it all come together. Everyone working with the kids were positive and encouraging, and great in general! I'm really glad that Maya was a part of it.
Laura J.Parent
Great dog voice, SandDollar!
Pam K
This was great!
Ruby O.
I learned to stay committed and increase responsibility on my part. It helped me learn to sing better and definitely improved my voice acting skills. It was a really positive experience!
Zen M.ICKY / Player
WHAT FUN!!! Great job everyone!
Margery N.
That was awesome!
Tekla
Yay!!!! That was amazing! Great job TCH crew!!
Eric G.
You should all be SOOO proud of yourselves!!!
Sarin M.Playwright
Thanks to all! Lots of fun!
Frank C.
Great job everyone! So proud of all the kiddos who performed!
Judith C.
We had a fun time. Great job everyone
Michelle P.
Community is so important, especially during times like this!
Sarin W.Playwright
So wonderful to have experienced this radio musical. You brought laughter and curiosity, tears, and superpower feelings. Thank you.
Rebecca L.
What a great crew! Amazing and now Icky has its own life!
Judy B.
I loved it! I feel like participating in ICKY with so much fun! I loved working with people I already new and it was fun getting to see everyone again! It was different and cool recording in cars, and I think it will turn out awesome in the end!
Maya FInvisibility / Player
Great show! Very much a great action hero cartoon!
Jackie G.
art changes things (and by things…I also mean us). ❤
Hakim B.Lyricist
Thorfin is one of the Children's Hour's biggest fans. Every Saturday at 8:58 a.m. he runs up to his room, closes the door, and turns on his radio to listen to the show all by himself. He knows it is also available as a podcast, and so could be listened to at any time, but he says he likes hearing it over the radio, and pretending he's living in the olden days. He is beyond excited to hear the radio musical they've been working on all winter. I'm grateful to [The Children's Hour] for giving Thorfin something to look forward to this week.
Christina
I want to start by expressing my gratitude for being included on this project. It brought so much joy and creativity to a time when I was so unsure about everything! Feeling very very lucky to be involved.
As much as this process seemed to be about the process for the kids (and I think they had a wonderful time!) the product turned out beyond expectations!!
The work that happened after we recorded really brought everything to the next level. Katie, you and Robb and Jen knocked it out of the park!
Nicholas M.Asst. Director
Previous
Next
Sign Up for our Newsletter for Updates!