Podcast: Play in new window
Subscribe: Apple Podcasts | RSS
This week on The Children's Hour, we learn about Indigenous Peoples Day. Plus we are treated to live music from an all women mariachi band, Mariachi Flor del Alma, we've got a book review of Under The Cottonwood Tree, a new graphic novel for kids based on an ancient New Mexican folk tale, and the Extinction Diaries cover the bird die-off that happened late this summer in the southwestern United States.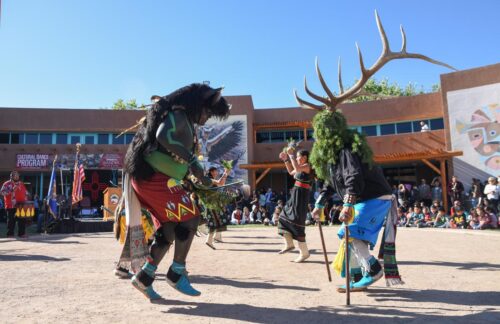 Find all kinds of curriculum from the Indian Pueblo Cultural Center for kids of all ages by clicking here.
We've got indigenous music from all over the world on this show, including a brand new release by a group of New Zealand artists sung in three languages called Spin Your Poi (find the video here), and Joanne Shenandoah, A Tribe Called Red, Walea, Australian indigenous artist Emily Wurramara, a story by Mary Louise Defender Wilson, and Te Vaka.
The Children's Hour is supported by the Cultural Services Department and the Urban Enhancement Trust Fund at the City of Albuquerque. This project is supported in part by an award from New Mexico Arts, a division of the Department of Cultural Affairs, and by the National Endowment for the Arts. We also have support from Electric Playhouse and numerous foundations also support our work including the Infinite Gesture Fund, The Limestone Fund, and The Laughing Buddha Fund. Thank you to our listeners who contribute to us through the Paypal Giving Fund, Paypal, and by subscribing to our podcasts on Patreon.
---
| duration | title | artist | album | label |
| --- | --- | --- | --- | --- |
| 01:27 | The World Is Big, the World Is Small | Ella Jenkins | Multicultural Children's Songs | 1995 Smithsonian Folkways Recordings |
| 04:00 | All Spirits Sing | Joanne Shenandoah | All Spirits Sing | 1997 Music For Little People |
| 02:12 | Look at This (Remix) | A Tribe Called Red | A Tribe Called Red | 2012 A Tribe Called Red Inc |
| 02:47 | I'll Turn My Radio On | Walela | Walela | 1997 Triloka Records |
| 02:24 | Cielito Lindo | Mariachi Flor Del Alma | Live on The Children's Hour | The Children's Hour Inc. |
| 02:19 | Ojitos Verdes | Mariachi Flor Del Alma | Live on The Children's Hour | The Children's Hour Inc. |
| 02:19 | Flor De Las Flores | Mariachi Flor Del Alma | Live on The Children's Hour | The Children's Hour Inc. |
| 03:12 | Spin Your Poi (feat. Levity Beet & Lu & Tu) | Spinpoi | Spin Your Poi (feat. Levity Beet & Lu & Tu) - Single | 2020 Spinpoi |
| 01:50 | Spirits of Acoma | Ronald Roybal | Eagle's Journey Into Dawn | 1999 Ronald Roybal |
| 04:36 | Black Smoke | Emily Wurramara | Black Smoke - EP | 2016 Emily Wurramara |
| 00:55 | Song for the Rustling Tree | Kevin Locke | The First Flute | 1999 Makoche Music |
| 04:56 | The Star in the Cottonwood Tree | Mary Louise Defender Wilson | My Relatives Say | 2001 Makoche Music |
| 02:07 | Pate Pate | Te Vaka | Ki mua | 1999 Warm Earth Records |
| 02:35 | Kookaburra | Ash Dargan | Wirrigan | 1999 Indigenous Australia Pty Ltd. |