Podcast: Play in new window
Subscribe: Apple Podcasts | RSS
This week on The Children's Hour, hear our chat with astronaut Christina Koch who is aboard the International Space Station recorded live at the University of New Mexico with an audience of over 600 students. This was a rare and out of this world opportunity for students to engage with NASA astronauts, space experts and other space enthusiasts in an interactive atmosphere.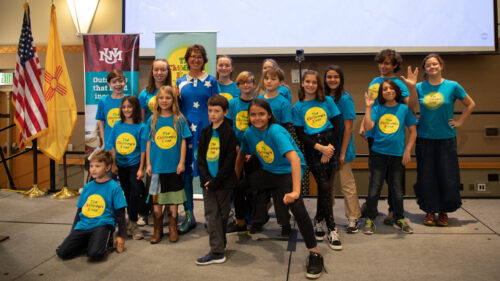 The Kids Crew also spoke with UNM Biologist David Hanson about his experiments on the ISS learning about photosynthesis in space. We were joined on stage by Kennedy Space Center scientist Kurt Leucht, who's working on NASA's future plans to live on Mars and the Moon.
Plus we spoke with NASA researcher and New Mexico biologist Jacob Torres, who's green chile plants are heading to the ISS in the spring of 2020.
Finally, is there life on Mars? Professor Newsom from UNM's Mars Space Laboratory tells us what they are finding with the Mars Rover.
Learn more about NASA, and use their many curriculum modules for kids. Find more info here.
Check out the unedited full video interview with Christina Koch, courtesy of NASA Stem Engagement:
It's a jam packed show! With music by Michael Franti & Spearhead, David Tobocman, Commander Chris Hadfield, and Billy Bragg doing Woody Guthrie.