Podcast: Play in new window
Subscribe: Apple Podcasts | RSS
This time on The Children's Hour we're leaping into learning about lemurs with Faye Goodwin, an educator at the Duke Lemur Center. Find out how humans are related to these adorable primates, and discover why they only live in the wild in one place in the world. We'll explore the many species of lemurs, and hear what must happen for lemurs to survive.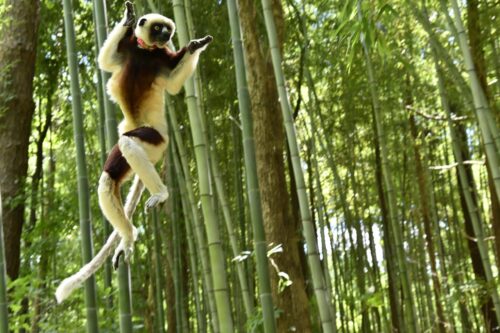 Plus the kids from the Extinction Diaries highlight how these creatures are incredibly vulnerable for becoming extinct.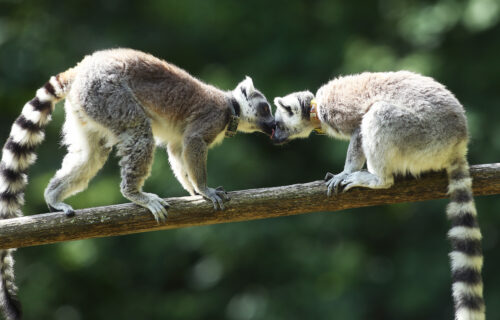 This show is mixed with excellent music, and is full of more than you ever knew about lemurs.
Leaping Lemurs Playlist
| title | artist | album | duration | label |
| --- | --- | --- | --- | --- |
| I Like to Move It | Los Colorados | I Like to Move - Single | 01:36 | 2012 Motor Entertainment |
| Lemurs Leaping (feat. Caitlin Anselmo) | Ecorapper | Lemurs Leaping | 03:45 | 2020 Palomino Sky Music LLC |
| Lemur | Dan Bornemark | Lilla Trams | 04:13 | 2010 Dan Bornemark |
| Lemurs | Perpetual Groove | Familiar Stare - EP | 00:51 | 2016 Perpetual Groove |
| Monkeys | AndyRoo and the AndyRooniverse | Welcome to the Andyrooniverse | 03:32 | 2019 Yawp Records |
| Have To Have A Habitat | Bill Oliver, Glen Waldeck & The Otter Space Band | Have To Have A Habitat | 04:00 | 2015 Bill Oliver |
| Lemur Seed-Along Song | Ecorapper | Lemurs Leaping | 02:24 | 2020 Palomino Sky Music LLC |
| Lemurs Playing | Jimmy Manor | Elephant Stomp | 00:46 | 2020 Jimmy Manor |
| Somaiko Somaino / I Play It, You Play It | Jaojoby | Feedback Madagascar | 04:56 | 2014 Feedback Madagascar |
| The Lemur Song | Judith Tulloch | Grooving to the Beat of the Times | 03:05 | 2005 Cammy Poeme Records |
| All the Wild Wonders | Coco's Lunch | A Whole New Way of Getting Dressed | 03:29 | 2002 Coco's Lunch |
| Maintsokely / Little Green (Also a Girl's Name) | Oladad | Feedback Madagascar | 02:02 | 2014 Feedback Madagascar |