Podcast: Play in new window
Jump into the Multiverse with the The Children's Hour, broadcast before a live audience from Meow Wolf, Santa Fe's premier family friendly interactive art installation.
The kids found out the story of Meow Wolf, how it got its name, what makes it so cool, and we learned about their FREE education center open to all. With live music by Santa Fe troubadour Joe West & Friends,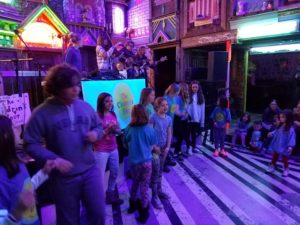 and featuring music by Zap Mama, Secret Agent 23 Skidoo, Frank & Deane, and Juan Gabriel with Rocío Dúrcal.