Podcast: Play in new window
Subscribe: Apple Podcasts | RSS
What could be more spooky than a pandemic Halloween? The Kids Crew are joined by Drs. Bop 'n Pop, who are on a mission to help normalize lifesaving public health behaviors for children and families through their songs and videos. We get an update from the doctors about how Covid can be contained and we find out how to have a safe Halloween, in spite of the pandemic.
Plus the kids in the Extinction Diaries update us on the arctic caribou, a creature bound to its fragile environment.
Hear plenty more spooky music from Kymberly Stewart, Lucy Kalantari & the Jazz Cats, fleaBITE, Kid Pan Alley, Secret Agent 23 Skidoo, The Happy Racers, Vince Guaraldi, and Johnny & the Raindrops.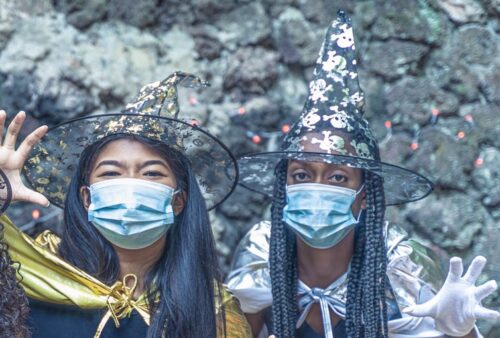 The Children's Hour is supported by the Cultural Services Department and the Urban Enhancement Trust Fund at the City of Albuquerque. This project is supported in part by an award from New Mexico Arts, a division of the Department of Cultural Affairs, and by the National Endowment for the Arts. We also have support from Electric Playhouse and numerous foundations also support our work including the Infinite Gesture Fund, The Limestone Fund, The Laughing Buddha Fund, and the Tarbell Charitable Fund. Thank you to our listeners who contribute to us through the Paypal Giving Fund, Paypal, by subscribing to our podcasts on Patreon, and thank you to the users of Token Ibis who choose to direct the organization to donate to The Children's Hour.
| duration | title | artist | album | label |
| --- | --- | --- | --- | --- |
| 02:11 | Halloween Is Here Tonight | Kymberly Stewart | Halloween Is Here Tonight - Single | 2020 Kymberly Stewart |
| 03:01 | Haunting Days of Halloween | Lucy Kalantari & the Jazz Cats | Haunting Days of Halloween - Single | 2020 Lucy Kalantari |
| 02:04 | Halloween Mask Song | Drs. Bop 'n Pop | single | Drs. Bop 'n Pop |
| 01:48 | Day of the Dead | Robert Mirabal | Taos Tales | 1999 Silver Wave Records |
| 02:42 | Yellow School Bus | Drs. Bop 'N Pop | Mask Songs for Kids | 2020 1310122 Records DK |
| 02:26 | Coronavirus | Drs. Bop 'N Pop | Mask Songs for Kids | 2020 1310122 Records DK |
| 01:55 | Cemetery Dance | The Vivisectors | Happy Halloween | 2016 Soiuz M'iuzik |
| 03:23 | The Skellingtons of Wellington | fleaBITE | BITE ME | 2018 Fleabite |
| 03:46 | Halloween | Kid Pan Alley | Tidal Wave of Song | 2001 Kid Pan Alley |
| 03:23 | Ain't No Party Like Halloween | Secret Agent 23 Skidoo | Ain't No Party Like Halloween - Single | 2019 Joel Sullivan |
| 02:27 | The Pumpkin Patch | The Happy Racers | A Scary Very Halloween | 2019 Burton Avenue Music |
| 01:23 | The Great Pumpkin Waltz | Vince Guaraldi | It's the Great Pumpkin, Charlie Brown | 2018 Lee Mendelson Film Productions., Under license to Craft Recordings, a division of Concord Music Group, Inc. |
| 01:41 | You Don't Scare Me | Johnny And The Raindrops | Halloween Album | Raindrops Recordings |