Podcast: Play in new window
Subscribe: Apple Podcasts | RSS
It's National Poetry Month in the USA, and we are celebrating with a Poetry Palooza on The Children's Hour! We're joined by poet and educator, Allan Wolf.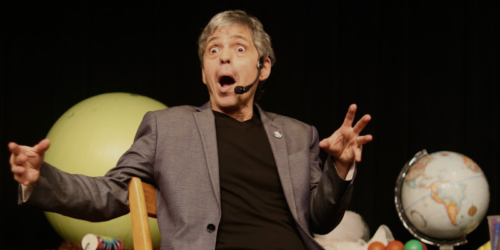 Wolf's books for young people showcase his love of research, history, science, and poetry. His latest YA novel, Who Killed Christopher Goodman?, is based on the murder of a high school friend during the summer of 1979. His latest book of poems for kids, The Day the Universe Exploded My Head: Poems To Take You Into Space and Back Again, is now in bookstores, just in time for the 50th Anniversary of the Landing on the Moon!  Wolf's fifth novel, The Snow Fell Three Graves Deep: Voices from the Donner Party, is due in bookstores Fall, 2020.
Allan teaches us how to write our own poems and we want to teach you too! Evan brought up cinquain poetry. Click here for a MasterClass taught by former US Poet Laureate, Billy Collins on how to create a cinquain poem of your own.
Once you write a poem of any kind, we would love to hear it! You can record it on our SpeakPipe Voicemail! Just click the button.
There are numerous poems shared on this episode, including our guest's own work, but also we hear classic poems from Robert Lewis Stevenson, and newer poems from CJ Janovy and Eloise Greenfield.
This show is mixed with great music, all of which is its own kind of poetry. Happy Poetry Month from The Children's Hour!
Recorded at the Outpost Performance Space in Albuquerque, New Mexico by Chad Scheer. Production help provided by Eli Henley, our Senior Producer is Christina Stella. Katie Stone is our Executive Producer.
© 2023 The Children's Hour Inc. 
Playlist: Poetry Palooza
| title | artist | album | label |
| --- | --- | --- | --- |
| Wake Up | The Ditty Bops | The Ditty Bops | 2004 Warner Records Inc. |
| Can You Write a Song About Broccoli? | Ben Tatar and the Tatar Tots | Seconds | 2021 Ben Tatar Music |
| Haiku Song | Allan Wolf | single - Live on TCH | 2023 Allan Wolf |
| The Muffin Man | Ella Jenkins | Nursery Rhymes: Rhyming & Remembering for Young Children & for Older Girls & Boys With Special Language Needs | 1995 Smithsonian Folkways Recordings |
| Sidecar | Podington Bear | Springtime | 2016 Hush |
| Think About Your Troubles | Asylum Street Spankers | Mommy Says No! | 2007 Yellow Dog Records |
| Here's a Few Things | CJ Janovy | Wildflowers | 2014 Various Artists |
| Last Night I Had the Strangest Dream | Pete Seeger | If I Had a Hammer: Songs of Hope & Struggle | 1998 Smithsonian Folkways |
| Itsy Bitsy Spider | Victor Johnson | Kid At Heart | 2005 P-POP |
| Fragile, Do Not Drop | Podington Bear | The Box Set | 2008 HUSH |
| Oh, Words | Eloise Greenfield | Hip Hop Speaks to Children | 2008 Sourcebooks Explore |
| Words In My Mouth | Wookiefoot | Activate | 2006 Wookiefoot |
| Kitten | Podington Bear | Background | 2014 Hush |
| Nina Poeta | Nathalia | Mil Colores | 2022 Nathalia Palis, Brian McLaughlin |
| Just Be | Elliott Park | Just Be | 2018 Elliott Park |
| What Does Love Look Like? | Strawbitty Yops | What Does Love Look Like? - Single | 2023 Righteous Tidings Records |
| Toodaloo Kangaroo | Allegra Levy | Songs for You and Me | 2023 Little Moon Records |