Podcast: Play in new window
Subscribe: Apple Podcasts | RSS
This time on The Children's Hour we explore how reading to dogs can help kids feeling confident and excited about reading. Read To The Dogs programs can be found in many libraries, and sometimes they come to schools.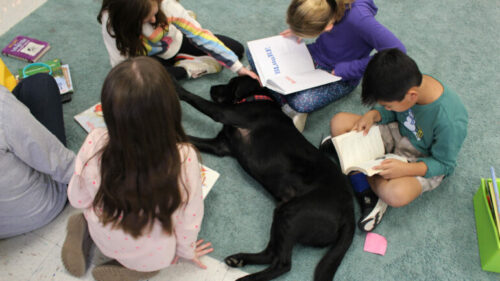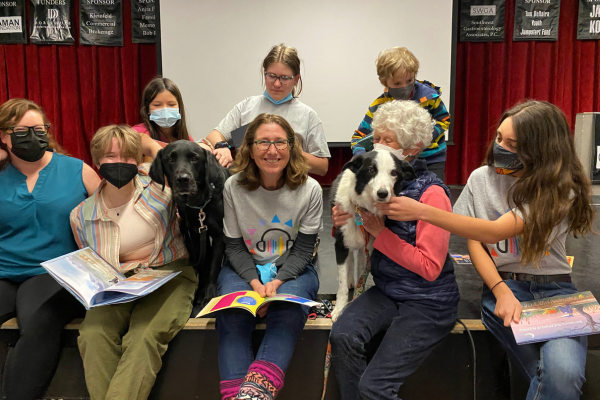 We also hear a story by John Keenan and Joanne Wilson-Keenan about a dog named Rover and how he transformed a classroom of reluctant readers into bookworms, just by hanging around and listening. 
This episode is mixed with great music celebrating reading, dogs, and books.
This episode was recorded by Chad Scheer at the Outpost Performance Space in Albuquerque, New Mexico and produced by Senior Producer, Christina Stella with help from Eli Henley. Katie Stone is our Executive Producer.
©2023 The Children's Hour Inc.
Playlist: Reading To Dogs
| title | artist | album | label |
| --- | --- | --- | --- |
| Walkin' the Dog | Crosspulse Percussion Ensemble | I Like Everything About You (Yes I Do!) | 2013 Crosspulse Media |
| When You Start To Read | Russ | Sing And Play With Russ | 2005 Claytunes Music |
| Puppy and I | Wonder Why Stevie Q | Puppy and I - Single | 2022 Steve Quessenberry |
| Our Dog Bernard | The Purple Mums | We're Not Kidding! a Tribute to Barry Louis Polisar | 2009 Snail Sounds/Rainbow Morning Music/ Barry Louis Polisar |
| High Time | Ketsa | Single | 2021 Ketsa Reiki Music |
| Ain't No Dog Like Mister | Lucy Kalantari & the Jazz Cats | All the Sounds | 2018 Lucy Kalantari |
| My Dog Did My Homework | Kid Pan Alley | I Used to Know the Name of All the Stars | 2008 Kid Pan Alley |
| Cats & Dogs | Red Yarn | Backyard Bop | 2020 Red Yarn Productions |
| Readin' to Rosie | Bay Song | Library Adventure | 2018 John H. Keenan & Jo-Anne R. Wilson-Keenan |
| Strong Ties | Ketsa | Single | 2021 |
| The Story of Rover the Reading Dog | Bay Song | Library Adventure | 2018 John H. Keenan & Jo-Anne R. Wilson-Keenan |
| Rover the Reading Dog | Bay Song | Library Adventure | 2018 John H. Keenan & Jo-Anne R. Wilson-Keenan |
| Read a Book (Converging Song) [feat. Billy Jonas] | Two of a Kind | Sing Me Your Story | 2012 Two of a Kind |
| I Like to Read | Hans Mayer | See You Later Alligator | 2010 Myther Music |
| R.E.A.D. | Johnette Downing | Reading Rocks | 2012 Johnette Downing |
| Snuggle Puppy | Eric Stoltz | Sandra Boynton's Philadelphia Chickens | 2002 Boynton Recordings |