Podcast: Play in new window
Subscribe: Apple Podcasts | RSS
This time on The Children's Hour, we visit with acclaimed children's musician Susie Tallman, whose music makes everyone want to sing along. From the classics to her original work, her music enables kids of all ages to sing and learn.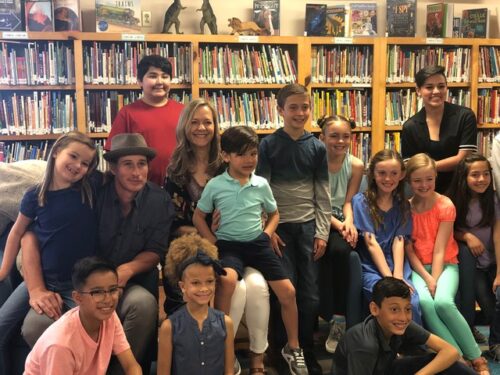 Then, our Kids Crew co-host Zen Menendez introduces us to a newly discovered ancestor of the dinosaur, the Kongonaphon kely. Though it may have been tiny in stature, this creature had a big impact on the dinosaurs of today.
This show is mixed with excellent music.
Learn something new with us!

| title | artist | album | duration | label |
| --- | --- | --- | --- | --- |
| Get Up and Get Going | Music With Michel | single | 02:18 | Michel Bush 2020 |
| Monkeys on the Bed (feat. Peter Maslen) | Susie Tallman | Children's Songs - A Collection of Childhood Favorites | 01:34 | 2011 Susie Tallman Yarbrough |
| Cancion de Color (feat. Tom Petersson) | Susie Tallman | Spanish Songs for Children Learning Spanish | 03:12 | 2019 Rock Me Baby Records |
| Bought Me a Cat | Susie Tallman | Animal Songs | 02:28 | 2012 Rock Me Baby Records |
| Claire de Lune | Susie Tallman | Classical Baby | 00:53 | 2005 Rock Me Baby Records |
| De Colores | Susie Tallman | Spanish Songs for Children Learning Spanish | 02:17 | 2019 Rock Me Baby Records |
| Rock-A-Bye Baby | Susie Tallman | Lullabies for Sleepy Eyes | 01:02 | 2000 Rock Me Baby Records |
| Dino Dance (feat. Jordan O'Connor & Greg O'Connor) | Susie Tallman | Animal Songs | 02:43 | 2012 Rock Me Baby Records |
| Domina Transit | Blue Dot Sessions | Pecan Grove - EP | 03:13 | 2015 Blue Dot Sessions |
| Ta-Da! | Siddhartha Corsus | Rasa Lila | 02:47 | 2018 1076171 Records DK |
| We Are the Dinosaurs | The Laurie Berkner Band | Superhero | 02:58 | 2016 Two Tomatoes Records, LLC., Distributed by Razor & Tie Recordings via Concord Music Group, Inc. |
| King of Favelas Mix | Piero Umiliani | Mah Na Mah Na - The Complete Remix Project | 01:17 | 2007 Easy Tempo |
| Dinosaur At Heart | Russ | A Whale of a Time | 03:14 | 2002 Claytunes Music |
| If You're Happy and You Know It | Susie Tallman | Children's Songs - A Collection of Childhood Favorites | 01:53 | 2011 Susie Tallman Yarbrough |
| Throw It Out the Window | Susie Tallman | Let's Go! Travel, Camp & Car Songs | 02:00 | 2007 Rock Me Baby Records |
| Suspended Animation | Livio Amato | So Much Love To Give | 00:47 | 2019 Livio Amato/Sarah Flint |
| What Can You Learn (From a 300-Year-Old Goose)? | The Re-Bops | WHAT IS IT? Musical Math & Science | 03:07 | 2003 Re-Bop Records |
| Hulululu Bus | Falu | Falu's Bazaar | 03:39 | 2018 Falguni Shah |
| Take Time In Life | Fox and Branch | Take Time In Life | 02:11 | 2009 Doodleywag |