Podcast: Play in new window
Subscribe: Apple Podcasts | RSS
Learn all about the United States Senate on this edition of The Children's Hour. We'll visit with New Mexico Senator Martin Heinrich in an interview he says is "a lot harder than I get from CNN."
The Kids Crew learn about his job, how he knows what his constituents want, and what he's doing about the climate crisis.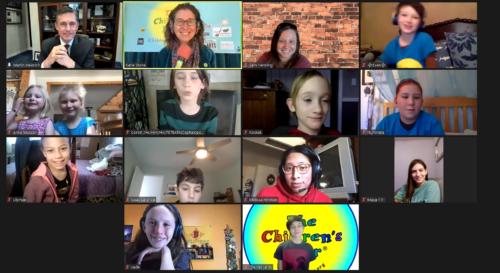 Then, Zen and Amadeus sit down with their Aunt Elsa, a staffer on Senator Heinrich's team. We learn about the filibuster, what happens day to day in a Senator's office, and what it's like to be on the staff.
This show is mixed with excellent music, and it's a great way to learn more about US Civics.
Learn More:
The US Senate Educational Page: The website Senate.gov has many resources to learn more.
Books: The US Senate list of books for kids about government.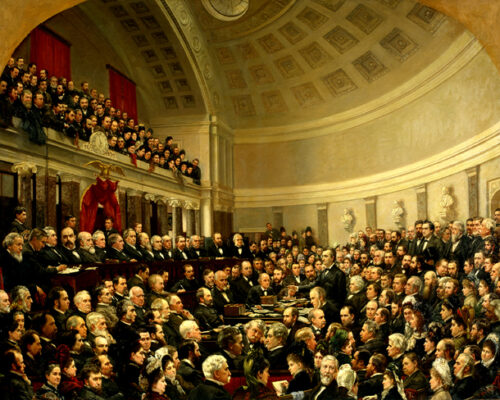 The Florida Case before the Electoral Commission
(1879) Cornelia Adèle Strong Fassett (1831 – 1898)
Learn more and take a quiz: Ducksters teaches about the Senate too.
The US Senate Playlist
| title | artist | album | duration | label |
| --- | --- | --- | --- | --- |
| One Foot / Lead with Love (feat. Crys Matthews) | Alastair Moock | Be a Pain - An Album for Young (And Old) Leaders | 02:58 | 2020 Alastair Moock |
| Stand Up | Little Miss Ann | Clap for Love | 02:46 | 2008 Little Miss Ann |
| Dutiligi | Mello C | Concept Beats, Vol. 4: Nobaraso - EP | 00:40 | 2020 Sound of Picture |
| Easy Easy | Crowander | Acoustic Miniband | 00:53 | 2019 Crowander |
| Beautiful End | Ketsa | Flight of the Dragonfly | 00:59 | 2011 Ketsa Reiki Music |
| Three-Ring Government | Various Artists | Schoolhouse Rock: America Rock | 02:59 | 2014 American Broadcasting Music, Inc. |
| Congress | Enter the Haggis | Casualties of Retail | 01:13 | 2014 Firebrand Entertainment |
| Senator John Arthur Clydesdale III | Hullabaloo | I Chew | 00:58 | 2016 Steven M. Denyes |
| Branches of Government | Teacher and the Rockbots | America | 02:56 | 2005 4 Boys, Inc. |
| Politician | Dave Rudolf | Saved by Rock and Roll | 03:00 | 2020 Rehegoo AS Records |
| Algo Rhythm Natural | Podington Bear | Playful | 01:12 | 2014 HUSH |
| Got Spark | Podington Bear | Building | 00:32 | 2014 HUSH |
| Linen | Podington Bear | Solo Instruments | 00:45 | 2014 HUSH |
| Washington, D.C. | The Not-Its! | Are You Listening? | 03:31 | 2016 Little Loopy Records |
| My Crown | Fyutch & Uncle Jumbo | My Crown - Single | 02:43 | 2021 Harold Michael Simmons II, James Coma Pendleton, |
| Washington at Valley Forge | Dan Zanes | House Party | 01:21 | 2003 Festival Five Records |