Podcast: Play in new window
Subscribe: Apple Podcasts | RSS
On this episode of The Children's Hour we explore mushrooms with mycology educator and author, Peter McCoy. We'll learn about how the fruits of fungi are the smallest parts of these incredible organisms, which can be found everywhere in nature from the tops of mountains to the bottom of the sea, and how they are a part of all living and dead creatures on Earth.
Print and download our Learn-Along guide to use as you listen to the show.
Fungi is much more than just a food for humans and others, it's quite possibly the reason life is so abundant here on planet Earth. Using complex chemical signals, mycelium can communicate with one another, and scientists are exploring how they interact with plants and soils.
Peter McCoy will explain what the role of fungus is in our environment, and how it's the great transformer of chemicals into nutrition for plants around the world.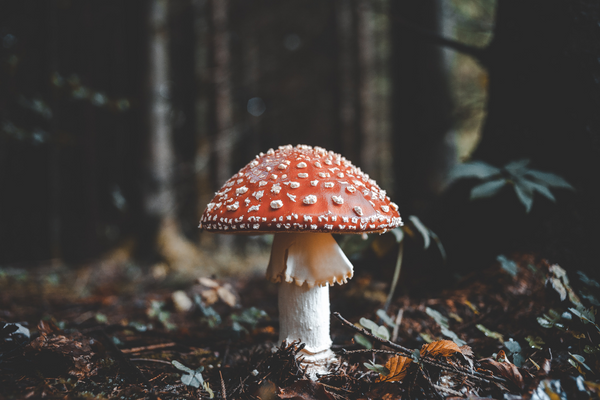 We will also find out about myco-remediation experiments using fungi to help clean up pollutants in rivers, the ocean, on land, and in our soils. You can learn more about myco-remediation in this video from the Biomimicry Institute.
Understanding Microremediation by the Biomimicry Institute
With poetry by Sylvia Plath, and a playlist celebrating all things fungi, join us as we learn about the fungus among us.
This episode was produced by Katie Stone, Executive Producer of The Children's Hour. Our Learn-Along guides are written by Jonathan Dunski. Many thanks to Dr. Peter McCoy for being with us on The Children's Hour.
© 2021-2023 The Children's Hour Inc.
Playlist Fungus Among Us
| title | artist | album | label | duration |
| --- | --- | --- | --- | --- |
| What in the World | The Happy Racers | Ready Set Go | 2017 SpinBoxClub | 02:38 |
| Mycelium Around Ya | Formidable Vegetable | Grow Do It | 2016 8 POUND GORILLA RECORDS | 02:48 |
| Church of the Woods | The Okee Dokee Brothers | Songs for Singin' | 2020 Okee Dokee Music LLC | 02:19 |
| Like a Hobbit in a Mushroom Field | Brobdingnagian Bards | Memories of Middle Earth | 2003 Mage Records | 00:59 |
| Mushrooms, Blue Cheese, Mold, Bacteria, Fungus | Bram Barker | single | 2010 Bram Barker | 03:05 |
| Gentle Chase | Podington Bear | Background | 2014 HUSH | 01:23 |
| Fungi | Peter Weatherall | Basic Biology | 2004 Peter Weatherall | 02:17 |
| We're All Connected | Medeski, Martin & Wood | Let's Go Everywhere | 2014 Little Monster Records | 01:25 |
| Portobello Mushrooms | KB Whirly | Greetings from Cloud 9 | 2016 Kb Whirly | 02:16 |
| The Fungus Song | Richard Bull | single | 2013 Richard Bull | 01:31 |
| I Hear Echoes | Ketsa | Single | 2011 Ketsa Reiki Music | 01:17 |
| The Mushroom Song | Bob LaBoube | Up On the Hill | 2012 Bob LaBoube | 02:44 |